We are a home for terminally ill people with nowhere else to go.
As a 501(c)(3) nonprofit, Morning Light offers a free home to terminally ill patients of low income in Indianapolis.
Our residents have nowhere else to turn for end-of-life accommodations—but they have us, and they have you!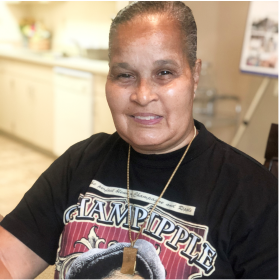 A free home for hospice
We're a hand to hold for people with nowhere to turn.
Morning Light is a charitable nonprofit organization in Indianapolis that serves people who have truly nowhere else to go. Our residents often have no family, no home, and no support system to speak of—but they have us.
Many of our residents have had difficult lives, but their end of life doesn't have to be!
At Morning Light, we believe that every person is worthy of love, respect, and dignity. No matter a person's age, income, gender, background, or life story, we are here to provide a peaceful and supportive place of rest in their final days.
Please consider donating to help us support end-of-life care for terminally ill people who have no other place to call their own.
IN THE NEWS
Learn more with Andrea Morehead
Join our impact
Your generosity matters
Morning Light is a bright light for so many people who cannot afford the end-of-life care that they—as people, as humans, as fellow souls—deserve.
Hospice shouldn't be a place where we give up; it should be a place where we celebrate all the life that's left to live.
Your donation is what allows Morning Light to keep the doors open. It pays for the home-cooked meals we serve our residents, it ensures round-the-clock CNA care, and it gives them a family and a home at the end of their lives.
What does your donation allow?
$50 Sponsor a hospice resident's last holiday
$100: Sponsor a hospice resident's personal care products
$300 or $25/Month: Join Our Making Memories Campaign!
$500: Sponsor one month of groceries for the entire Abbie Hunt Bryce Home
Any amount

helps! Every penny helps provide a caring, nonjudgemental home at the end of life.
Resident stories
Our residents still have life to live.
MORNING LIGHT AWARDS
We've been nationally recognized!
What To Expect
Need a home for hospice?
Our Impact
We make a difference at the end of life.
YEARS SERVING INDIANAPOLIS
The Abbie Hunt Bryce Home was founded in 2004.
RESIDENTS SERVED SINCE 2004
We serve dozens of Hoosiers each and every year.
OUT OF 100 ON CHARITY NAVIGATOR
HOME-COOKED MEALS MADE
Our home-cooked meals are nutritious and delicious!
ABBIE HUNT BRYCE HOME
You are welcome in our Home
PART OF A NETWORK
Thanks to our many funders, partners & sponsors!
NEW FROM THE BLOG
Need help understanding hospice?
We believe that hospice does not have to be an ugly word. The more we talk about end-of-life care, the better equipped we'll be when the time comes.