Place your patient in the Abbie Hunt Bryce Home
A nonprofit home offered free of charge for terminally ill patients of low income, the Abbie Hunt Bryce Home serves as a hand to hold and a safe place to stay.
We work in partnership with each resident's hospice or nursing agency.
Free home for the terminally ill
About our Home & residents
Operated by Morning Light, a 501(c)(3) nonprofit, the Abbie Hunt Bryce home opened in 2004.
Our Home is open to Central Indiana residents who are terminally ill and in financial need. Any licensed hospice, regardless of affiliation, may provide service to our residents. As a nonprofit, we have limited means ourselves and regret that we cannot accept all applicants.
Before applying for placement on behalf of a client, please understand our admissions requirements and services rendered—both explained below.
Admissions policies & procedures
Our staff is comprised of Certified Nursing Assistants (CNAs) working under the supervision of the Director, a licensed RN, and it is our expectation that our Hospice/Referral Partners agree to comply with protocols adopted by AHBH.
Medicaid waiver payment is accepted but is not required.
Admissions are determined on a case by case basis.
We follow strict and transparent admission requirements summarized below. However, certain exceptions can be made based on the abilities and availability of our staff.
Resident must have a hospice provider.
Monthly income must be $2,200 or less.
Admissions must be Monday through Friday between 9:00 am to 3:00 pm.
Chest x-ray within 30 days prior to admission; must show no evidence to suggest TB.
Two negative covid tests within 72 hours prior to admission or current vaccine card with booster is required.
Hospice nurse is responsible for wound vacs and wound care.
Social worker must order necessary DME so that it arrives 1 day prior to admission.
Please also note the following guidelines:
AHBH cannot accommodate feeding tubes or drains (eg peritoneal or pleural).
AHBH cannot allow smoking or consumption of alcohol on our premises.
AHBH cannot allow pets to remain on the premises outside of visiting hours.
AHBH cannot accept registered sexual offenders.
AHBH cannot accommodate individuals with bedbugs, lice, scabies, etc.
AHBH does not have the ability to accommodate individuals that have isolation needs.
AHBH cannot accommodate needle injections (eg insulin).
Our role in care
We provide residential and respite care for persons enrolled in hospice. The role of our staff is to provide daily patient care, following the established and provided care plan.
Services include but are not limited to:
Assistance with ambulation
Meal preparation (including accommodations for special diets)
Various social activities based upon census response
Essential housekeeping services, including laundry
Assistance with residents managing their own medications (except for IV or subcutaneous medications)
Hospice provider's role in care
Upon admission to the Abbie Hunt Bryce Home, we rely on the hospice team to supply the following:
Medication planners, including patient labels
Syringes for liquid narcotics
Personal protective equipment for the resident
Wound care supplies
The hospice/nursing agency will maintain all record and ownership of the following: physician statements, care plans, funeral arrangements, and emergency/familial points of contact.
Due to the unique nature of our home, in the event of an emergency or the passing of the patient, only the overseeing hospice/nursing agency will be notified by the Abbie Hunt Bryce Home staff. It is the responsibility of the overseeing care team to coordinate family, doctor, and funeral home contact.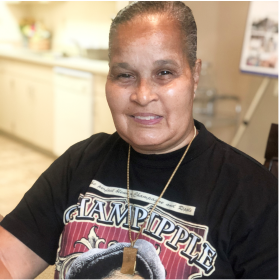 How it works
Our resident application process
Join us for a video tour of our Home!