Give a happy ending to someone who needs a home
Our residents don't have the means to go anywhere else. You can give them a home and a hand to hold at the end of life.
Your donations are in trusted hands
From nonprofit storytelling and patient care to CNA training, Morning Light and the Abbie Hunt Bryce Home have earned awards at the local and national level. We're proud to be responsible stewards of every single dollar we receive.
In-kind donations
Donate items for our Home & residents!
Each day the Abbie Hunt Bryce Home provides free care and living arrangements for homeless or low-income hospice residents in Indianapolis.
Running a home is no easy task, especially when you are dependent on the generosity of others! Please think about donating a handful of some of our most needed items.
You can help us keep our home clean, comfortable, and healthy! We appreciate your support.
We always welcome…
Paper towels
Trash bags
Detergent
Toilet paper
Cleaning products (e.g. Windex, Lysol, and stain remover)
Shampoo & conditioner
Lotion
Toothbrushes
Toothpaste
Please bring or ship your donation to our Home at 4760 Pennwood Drive Indianapolis, IN 46205. Our Home operates 24/7 so someone will be there to collect your items. Thank you!
Other ways to donate financially
In addition to outright gifts (make a donation by credit card here!) and in-kind donations, we accept a number of other donation types:
Cash gifts
Gifts of securities
Gifts of real estate
Charitable gift annuities
Charitable remainder trust gifts
Gifts of life insurance
Bequest gifts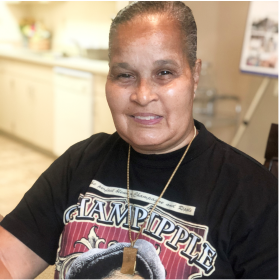 Give your time
Volunteer at Morning Light
The Abbie Hunt Bryce Home is always looking for volunteers to assist with reception duties as well as caring for and supporting its residents!
Become a volunteer and help us manage the day-to-day operations while also bringing joy to our residents' lives.
We have needs for ongoing volunteers as well as volunteers for special events. However you'd like to give of your time, we'd be glad to have your support.
can you help?
Support our residents today!
Your generosity is what gives our residents a place to call home. Donate today to give a happy ending to so many people—like Richard, Roberta, and Mr. Dewey. Your gift makes a huge difference!