Morning Light News from 2017
Here's a recap of what the Morning Light team accomplished—with your help!—in 2017.
Honored at Hoosier Heritage Night
Longtime Morning Light Board Member and Abbie Hunt Bryce Home supporter Charles Williams (at podium) was one of six honored at Hoosier Heritage Night on June 7, an annual recognition that serves as a fund raiser for Heritage Place.
Charles has had a noteworthy career and impact on his community, including working for Indiana Bell/Ameritech and Butler University. His role as a mentor, as one of the founding members of 100 Black Men, was also recognized as well.
As you see here, he was surrounded by family to help him celebrate this noteworthy honor. Congratulations!
Morning Light offers Flu Vaccines onsite at Pennwood Place Apartments
A Flu Shot Clinic was offered on October 18, 2017 hosted by Morning Light, Inc. The public was invited to the South Community Room at Pennwood Place Senior Apartments. This is the third consecutive year, Morning Light has been proactive about seasonal immunizations. Newly added employee Project Specialist, Madison Gonzalez, coordinated this year's event. Flu shots were administered by Franciscan Health Immunization Services.
Shown are Home Assistants at the Abbie Hunt Bryce Home, a program of Morning Light, Inc. and Martha Day, Administrator.
Morning Light in the Community
Morning Light Executive Director CEO Tom Fodor put on his Rotary Club of Indianapolis hat at IPS # 14 recently. He represented the Rotary Education Committee at the first Family Literacy Night, the brainchild of the school's Media Specialist Teresa Rozzi. The Rotary Club contributed the books that were read to the eager students. Ms. Rozzi then led a cooking demonstration that involved the focus of the book, delicious cranberries! Good reading and good food- a great combination for any age!
Morning Light Reaches Out To U Indy Students
Tom Fodor and Madison Gonzalez of Morning Light met close to 100 students at the December 6th Resource Fair for University of Indianapolis Occupational Therapy students. The event was organized by Rebecca Barton, the Director of Fieldwork for the School of Occupational Therapy. Morning Light has worked with the School for several years, collaborating in mentoring programs and on site projects at Morning Light's Abbie Hunt Bryce Home for hospice residents. Students learned about Pennwood Place for low income seniors and the Home, one of only a dozen in the nation that provides free living accommodations to the terminally ill. Connections made at the event will hopefully lead to a 2018 cooperative project and some volunteer opportunities. 
Stress Release in Time for the Holidays
Back & shoulder massage were offered for the first time to the senior residents at Pennwood Place Apartments on November 15th. This service was provided complimentary by Chiro 1st. Twelve residents had the opportunity to pampered just footsteps from their homes. The facility is fortunate to have a designated area for medical professionals to bring their services to the residents. Weekly activities are scheduled by Madison Gonzalez, Project Specialist.
Morning Light Recognizes Customer Service, Board Members, Grants
Morning Light celebrated a remarkable year as the Board of Directors conducted its Annual Meeting December 4th. Executive Director CEO Tom Fodor and Chair Lee Ann Blue did the honors to salute three departing Members. Treasurer Tony Iacobucci was recognized for his work to simplify financial reporting and to raise funds, particularly through the Beach Ball and Rolling For Hope. Charles Williams capped 20 years of involvement with the organization and its former parent company, Visiting Nurse Service, providing his unique perspective to major decisions. Scott Ringold also left the Board after many active and successful years advocating for strategic new partnerships at the Abbie Hunt Bryce Home.
Morning Light also saluted Board Member Brandon Hoopingarner with its Customer Service Award, given for his leadership in guiding the Real Estate Facilities Committee to secure leases for the 4701 office building. Chris Schultz of Axus Creative received the Customer Service Award for vendors, for working with Morning Light to update website information and to facilitate constant improvements in its online fundraising programs.
Fodor also announced that Morning Light received three grants for its Abbie Hunt Bryce Home. One $10,000 gift came from the Rotary Club of Indianapolis to provide awnings so hospice residents can enjoy the Home's newly renamed Rotary Memorial Garden. Additionally, a $10,000 Nicholas H. Noyes Jr. Memorial Foundation grant will help cover Home operational costs. Blackbaud Inc. continued a tradition by awarding a $2,000 gift to cover Home resident transportation cost. This is the fifth straight year Blackbaud has awarded Morning Light one of its Community Matters grants!
—photos courtesy of Brenda Schultz
Memorial Remembrance Brings a Summer Day to Fall
The annual Abbie Hunt Bryce Home Memorial Remembrance was held under clear skies and 80 degree temperatures on October 7, which is usually a typical fall day!  The unexpected warmth was appropriate as 37 lives were honored, representing the number of residents who stayed in, and passed,  in central Indiana's only free hospice residence during the last twelve months.   Cheryl Pasquale of Premier Hospice performed touching renditions of Amazing Grace and Over the Rainbow.  Pastor Mark Powell of St. Vincent Hospice reminded everyone that the Garden is a sacred place because of what it represents: unconditional love at the end of life.
Loved ones came to the Home mostly to see the names of the departed on bricks which are displayed in the Garden.  A friend of former resident Matthew Whiteface sprinkled tobacco leaves over his friend's brick, saying it was a Kentucky tradition that Mr. Whiteface would appreciate.  The sons and grandchildren of Michael Montgomery brought three branches of the family to celebrate a life that ended peacefully.  Former resident Diane Briscoe was remembered by her daughter in law Robin, who brought Ms. Briscoe's bible and photograph to the ceremony.
At Morning Light we are privileged to remember those we cared for and to be considered part of the "extended family" of our residents. Their names follow. If you would like to contribute, or commemorate a loved one who stayed at the Home, please click on the Donate tab at the top of the page.
Pedro Almodouar
Thelma Arkers
Ruth Armstrong
Joe Braxton
Diane Briscoe
Mindy Cahoe
Robert Cheeseman
James Davidson
Steve Davis
James Doll
Charles Dugger
Robert Gallamore
John Harding
Earl Hartfield
Beatrice Jackson
David Keith
Pat Miller
Michael Montgomery
Ricardo Hrlic
NelsasIsiah Poindexter
Essie Robinson
David Rose
Marilyn Shurtleff
Joe Simmons
Bradley Smith
Demiree Smith
Ronald Smith
Timothy Snover
Gwendolyn Steckley
Garfield Trice
Janet Turner
Ernestine Vance
Robert Warner
Bobby Weir
Matthew Whiteface
Gary Wickware
Stephanie Wilson
Pennwood Place Apartment's Holiday Party
Our Pennwood Place Apartment seniors had a blast at their Holiday party this week. The residents made a pinecone Christmas tree craft, exchanged white elephant gifts, and enjoyed chocolate chip cookies.
Abbie Hunt Bryce Home Resident Haircuts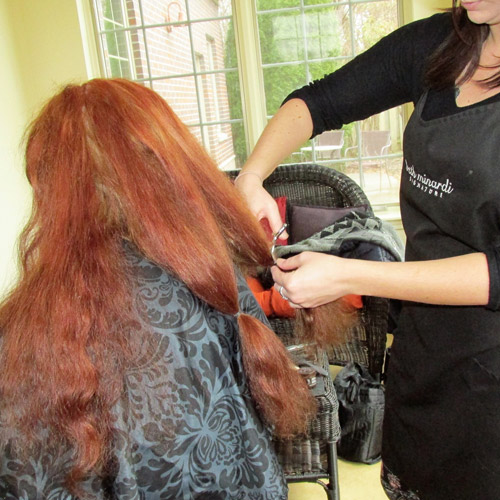 Hair stylist at Eclectic Beauty Mallorie Hook, volunteered her time and talents to cut the hair of our Abbie Hunt Bryce Home residents. The residents enjoyed being pampered while socializing and listening to their favorite music. One of our residents even offered to donate her hair to Pantene to make wigs for those in need – a truly touching testimony to her sweet spirit.
Cards from Kids
Elementary school kids from ProAct Indy at Crestview Elementary and Harrison Parkway Elementary's Kindness Club made very special holiday cards for our Pennwood Place Apartments residents and our Abbie Hunt Bryce Home residents to help spread holiday cheer.
Tidings of Joy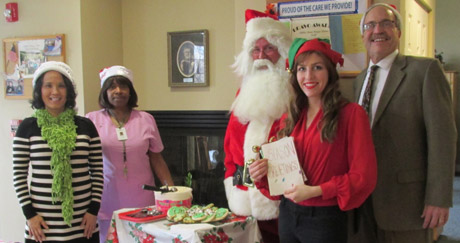 Morning Light, Inc. spreads good cheer throughout their organization's hospice home, the Abbie Hunt Bryce Home. This was Santa's first visit at the Abbie Hunt Bryce Home surprising the residents with presents and cookies. Local elementary school students made Christmas cards both for the hospice home and Pennwood Place Senior Apartment residents.
The special moment was prominently featured on the front page of the Indianapolis Star newspaper Friday, December 22, 2017 documenting the thankful faces. Kelly Wilkinson, journalist of the Indianapolis Star produced an in depth look at this special day through a short video that you can see here. She also summarized why this celebration was so important through several photographs which can be seen by clicking here.