Morning Light News from 2018
Check out a summary of what Morning Light was up to in 2018, including Rolling for Hope, Beach Ball, and more. Thank you for making our work possible!
Morning Light Gets Recognized at Pacers Game
State Fair Stops At Morning Light To Help Hospice!
Kristen Wolfred, the Director of Optimization and Strategy for the Indiana State Fair Commission, delivered much needed supplies to Morning Light recently. Executive Director Tom Fodor holds a basket of Fair event tickets and goods that totaled more than $500 in value. The items were a major part of Morning Light's Beach Ball auction which raised thousands for the Abbie Hunt Bryce Hospice Home. Ms. Wolfred also delivered socks and a carload of clothing collected by Fair employees for charity. Mr. Fodor thanked Fair staff, saying it was an honor to be selected to receive these items and that collections like these make a difference for the people helped by Morning Light.
PS: If you would like to collect items for the Abbie Hunt Bryce Home, take look at the wish list. 
Morning Light in the Rotary Spotlight
Morning Light, Inc. was presented with a $10,000 check at the Rotary Club of Indianapolis luncheon on April 10, 2018. They were awarded a grant to purchase awnings to hang on the west side of the Abbie Hunt Bryce Home. These awnings will provide much need shade for the residents while sitting on their back door patio to enjoy the outdoors. The Memorial Garden, which can be viewed from the patios will be re-named The Rotary Memorial Garden. A dedication will be held later in 2018.
Growing a Legacy
On Saturday, May 19th, a group of 5th and 6th graders from ProAct Indy volunteered their time to help construct a vegetable garden at the Rotary Club of Indianapolis Memorial Garden at the Abbie Hunt Bryce Home! Our Pennwood Place Apartments seniors, Abbie Hunt Bryce Home residents and volunteers will tend to the garden over the summer as a way to join all of our communities together. The students also helped to beautify the grounds of the Home by cleaning up trash. After a hard morning's work, the students had a blast playing pool and air hockey in the game room of the Abbie Hunt Bryce Home before having a pizza lunch with some of the Abbie Hunt Bryce Home staff and residents. During lunch, the students learned about the importance of leaving a legacy. It was a truly inspirational day for everyone involved.
Memorial Day BBQ at the Home
The Abbie Hunt Bryce Home Memorial Day BBQ was a huge success! Residents, volunteers, and staff enjoyed the long weekend with a special feast of grilled burgers, hot dogs, and all the classic side dishes. Our staff did a fantastic job decorating the Home in red, white, and blue, members of the community donated side dishes and desserts, and George Winbush (who happens to be married to our Operation's Manager, Rachael Winbush) mastered the grill. Overall, everyone enjoyed the spectacular event!
Pennwood's Got Talent
Pennwood Place Apartments held its first ever Talent Show on June 27th
Our Pennwood residents preformed and presented acts including (but not limited to) singing, sewing, art work, comedic storytelling, piano playing and more! All of our performers did an outstanding job and received a rose and chocolates after the show. Everyone was so encouraging and supportive of each other and family and friends of our residents even came out to show their support! After the event, everyone was invited to a cookout complete with burgers and hot dogs grilled up by Morning Light's very own, Tom Fodor. The show was a smashing success and really demonstrated what care and community is all about!
Christmas in July at the Abbie Hunt Bryce Home
Staff, volunteers, residents, and even their family and friends celebrated "Christmas in July" on July 25th with gifts, treats and even a visit from the big man himself, Santa Claus! At Morning Light, we recognize that holidays are limited for our hospice residents and we wanted the give them the chance to celebrate the Christmas season.
The staff decorated the Home for holidays in the middle of the night to surprise the residents when they woke up. Each resident received a personalized gift from Santa himself – an air force veteran hat for Dewey, chocolate for Jim, a t-shirt for Richard, an indoor gardening kit for Dixie…
The residents enjoyed a fest of fried chicken, potatoes, biscuits, Christmas cookies and peppermint stick ice cream with holiday music playing in the backround! It was certainly a magical day for everyone involved.
Abbie Hunt Bryce Home Wins National Honors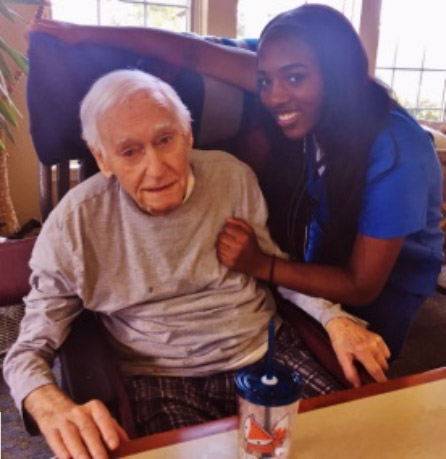 Morning Light's Abbie Hunt Bryce Home has been recognized as the winner of a National Award given by the Center for Health System Design & Implementation for Serious Illness Management Innovation. This honor was the result of a national competition sponsored by Boston University Institute for Health System Innovation & Policy.
The Abbie Hunt Bryce Home has served more than 500 central Indiana residents since its 2004 opening. A Boston University student who found Home information online contacted Morning Light staff and encouraged them to enter the competition. The Home will be recognized at a national conference in Boston in late November and will receive the competition's top prize of $1,500.
The Home was recognized for providing free living accommodations for the terminally ill, working to provide rooms for surgery recovery, and for operating a true Home complete with compassion and three home cooked meals per day. Morning Light leadership was also saluted for developing several revenue streams to keep the program viable.
This Innovation prize is just the latest example of national acknowledgment of this unique program, believed to be one of less than a dozen like it in the entire country. Morning Light has also been asked by the National Hospice and Palliative Care Professionals to host a nationwide November webinar to discuss its unique approaches to end of life care. More than 100 health care professionals are expected to participate.
Morning Light is the corporate nonprofit that oversees the Home and Pennwood Place, a low income senior housing facility. To donate, click here!
Happy Holidays From Morning Light

Every year at Morning Light, we have the honor of helping our residents celebrate their last Holiday season. It is such a heartwarming time of year as we are able to witness the community step up and bring joy to the lives of those who need it most! We wanted to share a few of our holiday happenings so far this year:
Morning Light staff hosted our first annual Thankful for You event for our residents, Board members, and donors. A Thanksgiving feast complete with all the fixings was shared around the table of the Abbie Hunt Bryce Home. It was truly a meaningful time.
Board Member Juli Hurdle and her husband Matt host a Thanksgiving open house every year and ask their guests to bring an item to donate to our Home. Every year, we are BLOWN AWAY by the amount of generosity shown by the community!
WZPL's Smiley Morning Show chose the Abbie Hunt Bryce Home as one of the beneficiaries of their Twelve Trees of Christmas! The hosts of the show surprised residents, staff, and volunteers with a Christmas tree, ornaments, and $500! The Home will also be featured in a segment of their radio show!
During the next few weeks carolers will visit the Home, special meals will be delivered, and gifts will brought to our residents straight from the North Pole by the big man himself – all thanks to our fabulous volunteers! If you have a special way you would like to volunteer at our Home this season contact Community Involvement and Events Manager Madison Gonzalez at mgonzalez@morninglightinc.org.
If you would like to personally give a gift to our residents, shop our Morning Light Catalog: Holiday Edition. In the catalog, there are several tangible ways to brighten the spirits of our residents and make sure our free hospice home can continue to serve those who have nowhere else to go in their final stages of life.
We couldn't do what we do without your support, thank you from the bottom of our hearts!
Happy Holidays!